'THE BRITISH MONARCHY MISCELLANY'

Who was the first king of England? Who can bear the title of Prince and Princess? Which kings had mistresses? Which royals died of haemophilia? Was Lady Jane Grey an actual monarch or not? How do you tell a Grenadier Guard from a Coldstream Guard?
The answers to all these questions are in The British Monarchy Miscellany!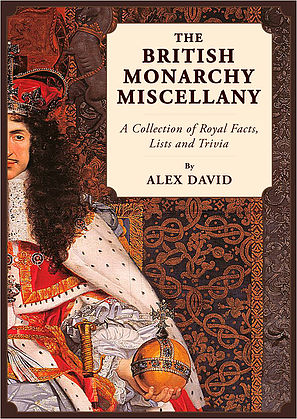 The British Monarchy Miscellany is a book like no other, born out of a writer's immense curiosity, and a wish to create a work bringing together all the varied information associated with the British Monarchy. In essence a basic reference on the subject, this book goes beyond basics by also presenting a collection of trivia and lists covering the 1,000-year history of the monarchy and the Royal Family. Extensively researched with an eye for accuracy, the book is over 100,000 words long, yet all information contained in it is easily accessible via concise chapters and an easy-to-read writing style.

The volume is divided in five parts: 'MONARCHS', 'FAMILY', 'CEREMONY AND CONSTITUTION', 'ARTS AND TREASURES', and 'MISCELLANEA'. Basic reference tools include handy Facts Sheets on each monarch from William the Conqueror to Elizabeth II; basics facts on all royal consorts since the Norman Conquest; guides to the royal residences and the crown jewels; and chapters on the monarchy's relation to government, to the law, to the church and to the armed forces. Additional trivia chapters include:
Causes of Death of Monarchs
Monarchs Who Married Their Cousins
Royal Mistresses and Illegitimate Children
Queen Victoria's Forty Grandchildren
Relations of the British Royal Family to Other European Royal Families
Great Treasures Owned by the Monarchy
The Personal Jewels of the Royal Family
Notable Royal Artists
Royal Writers
London's Royal Statues
Notable Films on Royal History
Royal Pets
Plus much more!
The British Monarchy Miscellany will appeal to both novices and experts on the subject alike, and to anyone who has ever had curious questions on the world's most famous monarchy. It will be a welcome addition to any royal bookshelf, as well as a handy guide providing quick answers for work, study or leisure.

The book is available both in paperback and e-book format from Amazon.