← Back to portfolio
Queen Victoria's Last Day: A Short Account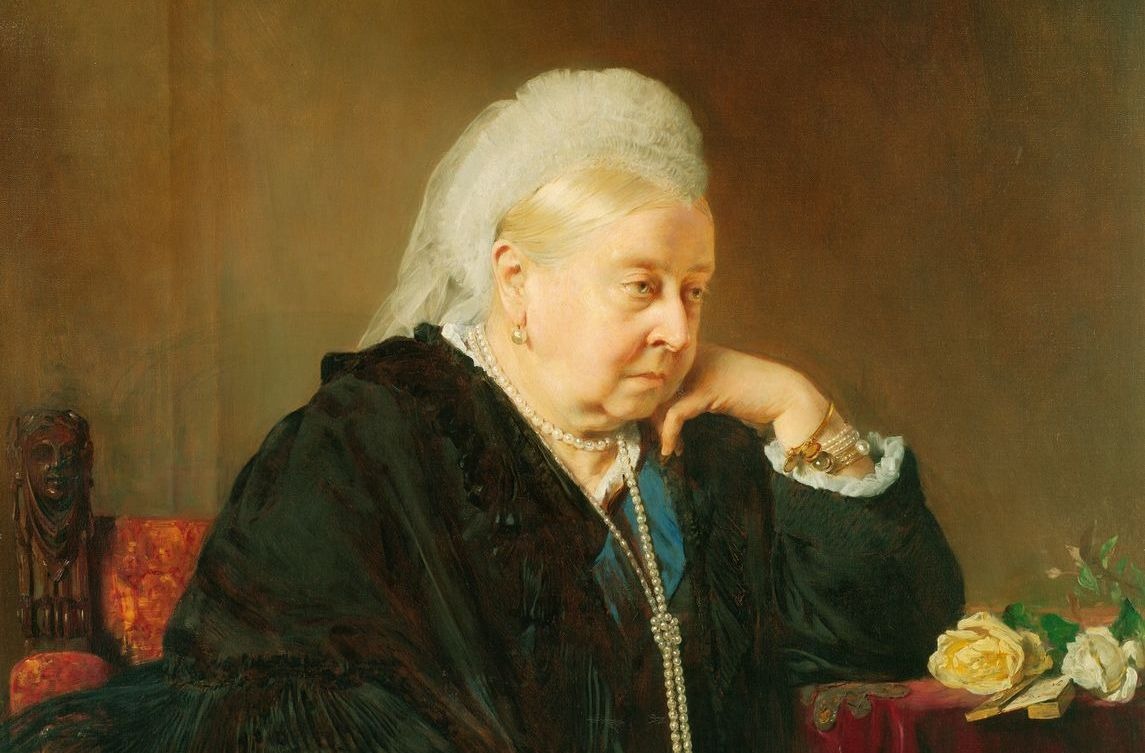 The article below was part of my successful application to enter the London Library Emerging Writers Programme.
.
 January 22nd, the last day of Queen Victoria's life, dawned grey and windy on the Isle of Wight. The Queen once again had had a difficult night and Dr Reid, her personal physician of 20 years, had to administer oxygen to make her feel more comfortable. He noted in his diary that 'tracheal rales' had begun, filling her lungs with fluids and making it difficult for her to breathe. A new bulletin was issued at 8am: "The Queen this morning shows signs of diminishing strength, and Her Majesty's condition again assumes a more serious aspect."
There was a scare around 9.30am when it looked like the end was near and the Royal Family rushed to her first floor bedroom from different parts of the house, congregating around her small bed. Some family members had been surprised upon their arrival at Osborne to see that the Queen had been transferred to a smaller, temporary bed in her bedroom to make it easier to nurse her. Now as they congregated Bishop Randall Davidson began to say prayers in a corner of the room, facing this small bed. As Victoria heard him speak she asked that Mr Smith, the Canon of Wippingham Church nearby, be summoned as well. Whether still automatically concerned about protocol, or mindful that Canon Smith would be offended if no one called him, she still found the strength to ask that he not be left out of these proceedings. Princesses Helena, Louise and Beatrice, the Queen's three youngest daughters, then began to tell their mother who was in the room, and people in turn responded by calling out their names to let the Queen know where they were since her eyesight had been failing like the rest of her body. Not everyone was identified, however. They did not let her know that Kaiser Wilhelm II, her oldest grandson, was standing there also. When Dr Reid asked the Prince of Wales in a whisper if it would not be proper to let the Queen know her grandson was there he answered "No, it would excite her too much."
There was, however, no need for now to worry about this omission since Victoria slowly rallied through the morning. She became more talkative and even took a little food by lunchtime. During this time, the Kaiser quietly took Dr Reid aside and said to him "Did you notice this morning that everybody's name in the room was mentioned to her except mine?" Wilhelm expressed how he really wished to speak with his grandmother before she died, and Dr Reid took it upon himself to arrange it. He sought the Prince of Wales, and either by persuasion or because he had changed his mind in the meantime, the Prince agreed for Wilhelm to see his grandmother. Dr Reid took the Kaiser to see the Queen shortly after lunchtime, and for approximately five minutes they were left alone in her bedroom. No one knows what transpired between them but after Wilhelm left, Queen Victoria said to Dr Reid "The Emperor is very kind."
By about 1.30pm Victoria had rallied so much since the morning that Dr Reid thought she might actually recover. He wrote a short note to his wife saying "I can't help admiring her determination not to give up the struggle while she can. I hardly dare to hope she might yet win." By 2pm however she was failing again. As her son-in-law, the Duke of Argyll, a witness to the events, later said, she sank into death like a great three-decker ship, sinking, then rallying, then sinking again. The family assembled again in her bedroom, waiting for the end in silence at first, broken only by the sobs of nine-year-old Prince Maurice, Victoria's youngest grandchild, who had to be taken out of the room when his loud sobs became uncontrollable. Then Bishop Davidson and Canon Smith—who had arrived at the house by now—began to recite prayers and hymns in turn. Victoria looked increasingly weak and unconscious, but Davidson and others noted that as he was reading one of her favourite hymns, 'Lead Kindly Light', the Queen smiled and seemed to understand when she heard the verses "And with the morn, angel faces smile / which I have loved long since, and lost awhile." Still, Victoria kept hanging on to life and her descent into death seemed to have halted again. At 3.30pm Dr Reid asked for everyone to leave the room so that the Queen could be re-positioned in her small bed to make her more comfortable.
At 4pm, as the sun began to wane in the January sky, the last bulletin was issued. In stark, terrible simplicity it just said: "The Queen is slowly sinking". Victoria had once written to her eldest daughter Vicky that she did not want a crowd around her deathbed: "That I shall insist is never the case if I'm dying. It is awful." But she got a crowd anyway. As the family streamed back into her bedroom everyone assumed places that most people remembered afterwards. The Prince of Wales sat by the right side of her bed, his wife Alexandra sat on the opposite side, Princesses Helena and Beatrice stood in front of the bed, Princess Louise knelt on the floor on the right of Victoria's head, and other members of the Royal Family found, and occasionally switched, spaces around the room. Among them there were Victoria's only other living son, Prince Arthur; the Duke and Duchess of York (the future King George V and Queen Mary); Prince George, Duke of Cambridge, Victoria's cousin and the only member of the Royal Family older than her; Princess Victoria of Hesse, said to be the Queen's favourite granddaughter; and Princess Victoria Eugenie, the future Queen of Spain. Among this privileged group, three commoners took places of honour: Mrs Tuck and Mrs Soal, the two women who were nursing Victoria, sat on or stood close to the bed, and Dr Reid was closest to the Queen, looking after his patient. He and the Kaiser performed the most memorable physical task in the last hours of Victoria's life: they wrapped their arms around her back, one on each side, and propped her up to ease her increasingly laboured breathing. Both of them knelt on the floor to get a better grip as the temporary bed was very low. Everyone present long remembered with admiration how Wilhelm did not stir for over 2 hours from his position despite obvious discomfort, and the fact that he could not use his withered left arm to balance himself. On the other side, Dr Reid took Victoria's right hand in his and also held it for over two hours—not a kindly gesture, which would have been presumptuous in front of her family, but so that he could monitor her pulse. The Princess of Wales held Victoria's left hand in hers. Silence reigned between 4pm and 6pm, sometimes broken by muffled crying and by Victoria occasionally glancing at Dr Reid and saying "I'm very ill…I'm very ill…" to which Dr Reid answered each time "Your Majesty will soon be better."
By 6pm darkness had descended upon the Isle of Wight, and it was clear now the end was near. Among the flickering gas lights in the bedroom (Victoria had refused to install electric lights at Osborne as she did not like their glare), the Royal Family began once again to utter their names as if to make their individual farewells. Dr Reid and the Kaiser were still holding Victoria up with their arms. Her breathing became more laboured. Bishop Davidson began once again to recite prayers. During his litanies, people noticed how Victoria's eyes moved to the right and upward to a large painting of the Deposition of Christ on the wall. A change of expression and a look of great calm seemed to come upon her which everyone remembered long afterwards. She opened her eyes wide and, according to Princess Helena, seemed to be seeing 'beyond the borderland'. She then uttered her last word: "Bertie…" though her voice was so weak that some thought she said 'Albert'. It was coming up to 6.30pm and Bishop Davidson was finishing his prayers by reciting the Aaronic Blessing from the Bible: "…The Lord make His face shine upon thee and be gracious unto thee. The Lord lift up His countenance upon thee and give thee peace." A few instants after he uttered this spiritual farewell, Victoria quietly drew a last breath and died, her eyes still open, looking beyond the borderland. Dr Reid let go of her hand, and he and the Kaiser finally released her down on the pillow. The Prince of Wales, his face wet with tears, then stood up and, in his first moments as sovereign, reached over and closed his mother's eyes.
.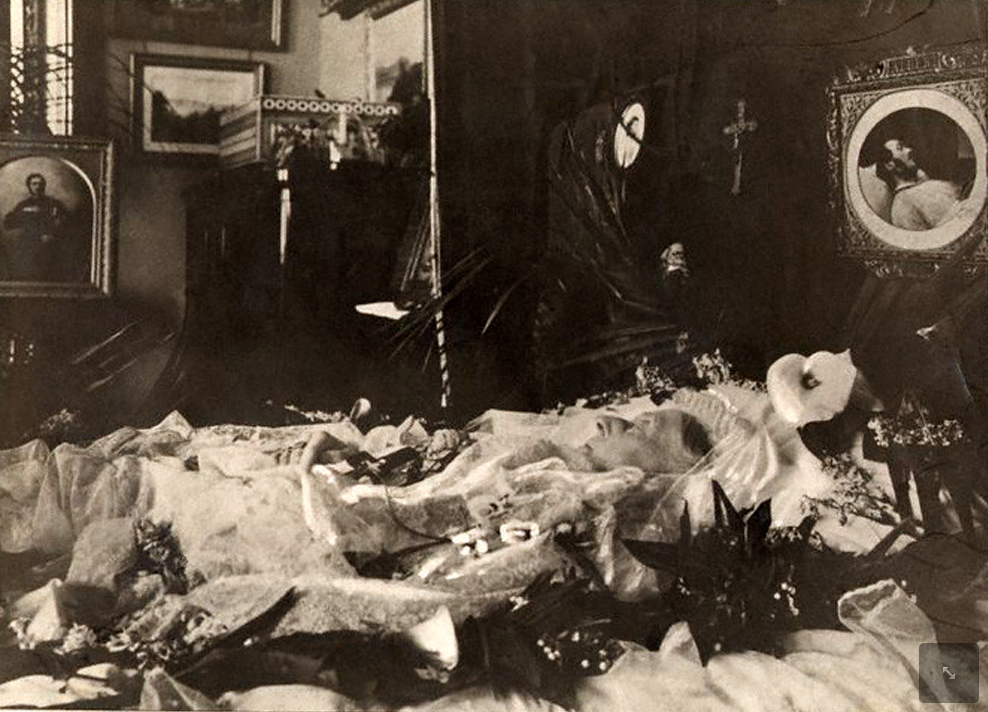 Add a comment